About Muang Thong Thani
Muang Thong Thani (MTT) is the biggest and most ambitious community project in Thailand, and one of the biggest of its kind in the world, but was also one of the most massive victims of the 1997 Asia Economic Crash. MTT has great potential to rise to greatness, but the company which still owns most of MTT is heavily burdened with debt and seems to get by with minimal management.
Any recovery would need a major investor *or* inspiring leadership that takes charge, reaches out to appeal to new kinds of groups, and implements.
The potential is clear -- MTT could become a bust-boom project like the legendary Canary Wharf which started its development in 1988 with skyscrapers (Bangkok Land started MTT in 1989), died during a collapse in the property market with bankruptcy in 1992 with over $20 billion of debt (MTT froze in 1995 but has a small fraction of that debt) leaving empty buildings, then got new leadership in 1995 started to boom again in 1997 (MTT still hasn't boomed as of 2007). Canary Wharf continues to expand rapidly to this day.
Bangkok has been booming the past few years, and property prices have been going up up UP, so why isn't MTT recovering much despite its very attractive relative prices?
The trendy Impact Exhibition and Convention Center, the biggest in Southeast Asia and super modern, has been added in stages from 1998 to 2006. A very wealthy neighborhood has grown up in the residential land section between the carefully prepared lake (cement sides) and the highrise condos. The Lakeside area community has nicely designed office buildings with penthouses on top, as well a long row of shops with great potential to be a yuppie hot spot, a retirement community, or a creative business center like Chennai, India, or Silicon Valley.
If you imagined building such a trendy center, you would eventually come up with a plan for a place similar to MTT. Yet, MTT is already there! The highrises, the infrastructure, everything ... except the people to occupy the highrise units and to design the shops. They're mostly empty!
Thais like new properties, so these won't sell as-is, except at today's firesale prices. The vast majority of these condos, shops, and office buildings have never been occupied since their completion in 1995-97. Part of the investment needed is not for construction. It's just to create a critical mass of trendy shops and business units, which should be relatively small investments which would be profitable by themselves, once the microeconomy is put into place.
It's a chicken or egg situation -- what comes first, the people or the trendy shops?
The management of MTT is spartan at best. The condo buildings don't even have a CCTV security system, which would go a long way to improving the value and attractiveness of the buildings. Along the street, the glass front doors are all locked, and everyone must walk in through the parking lot past a minimal security system, just a couple of low paid guards. The lifts are dirty inside (but work fine).
It's no wonder nobody is buying these units even at the ridiculously low prices they are being flogged for, one by one.
The design is wonderful. Construction is solid. Utilities are modern. Internet flies in that region (by Thailand standards). The area is surrounded by middle and upper class neighborhoods with modern shopping and conveniences within a short drive. It's all outside of Bangkok's dense traffic. You can drive where you're going without jams. You just can't find anything significantly wrong physically. It is all psychological and sociological.
Residential Lakeside MTT has simply been neglected by the founders, who seem to have turned their attention elsewhere in 1997 and not come back. Even the official website remains mostly unfinished. Often, people come to the conclusion that foreign inspiration is needed, especially since MTT has taken on a stigma by Thai people as a "failure" that nobody wants to buy into. A copycat mentality that follows trends leads nowhere. Creative solutions could tap the great potential of this megacomplex.
MTT Geography - Location, Location, Location
MTT is a subdistrict of approximate size 5 km x 5 km, located within a larger, upper class residential region of the Bangkok greater metropolitan area. Development of MTT was started in 1989 by Bangkok Land Public Co., Ltd., and was intended to be a self-contained satellite city with a population of more than 100,000 people, designed to be a nice place to live in suburban Bangkok. A new elevated expressway was being built by the government which at the time ended at MTT (and now extends further north into wealthy but spread out new suburban housing estates). Within 1 kilometer, there are two complete sets of entrance and exit ramps (4 each x 2 = 8 ramps) serving the MTT area!
MTT is generally seen as having 3 subregions:

Area 1 = earlier Muang Thong Thani housing neighborhood and a long strip of older row shops near Chaeng Wattana Road, a very small percentage in size
Area 2 = east of the expressway => Impact, cheap Popular Condo, and Popular Office Buildings
Area 3 = west of the expressway => luxury house neighborhood, nice highrise condos, and intended luxury smallrise offices

Likewise, the public transport within MTT has vehicles labelled 1, 2, and 3 for similar routes.

You can click on the map to magnify it in a new browser window. This satellite photo is Copyright © 2007 by DigitalGlobe, taken from Google Earth. The center is approximately 13.9145 E, 100.5450 N. Notably, this satellite photo is outdated because it shows Impact Challenger under construction, whereas it was completed in October 2006. (Not all images on Google Earth are very current.)
The first area at the southwest is a wealthy early suburban neighborhood of houses starting right off the expressway's Chaeng Wattana interchange and continuing down that road until shortly before the Software Park skyscraper, but this housing area is not visible from Chaeng Wattana Rd. because it's offset about a block from the thoroughfare behind the business strip. This phase is only about 1 km x 0.7 km in size and most of it seems to be almost 20 years old.
The second area is big, constituting most of the region east of the expressway, with a set of 26 low cost condominium buildings of 14 levels each called "Popular Condo", 8 office buildings with very large floor space (8,000 square meters per floor?) and 10 levels (= 80,000 square meters per building?) which I call "Popular Office" (even though these offices are the least popular), all built before the 1997 crash, plus the post-1997 developments of:
Impact Arena, a 12,000 seat concert hall, and the prime large-scale entertainment venue for Bangkok (e.g., concerts for Carlos Santana, Elton John, etc., Disney On Ice, and so forth), built in 1998 initially for the Asian Games
Impact Convention Center, a 30,000 square meter facility
Impact Exhibition Center, a 47,000 square meter exhibition hall
Impact Challenger, a 60,000 square meter column-free arched exhibition hall, completed in 2006 (and claimed to be the world's largest column-free exhibition center)
Altogether, the above facilities make up the largest exhibition and convention center in Southeast Asia.
The third phase is the most controversial and potentially the most luxurious, called Lakeside, named for its carefully architectured lake. It consists of 26 highrise condominium buildings called "Lakeside Condos", of which 18 were completed and habitable, but 8 are abandoned concrete shells at full height) between 20 and 30 stories high, all in a line going down Bond Street, and abandoned in the 1995-97 property glut.
Behind the Lakeside Condos is a luxury neighborhood which has actually developed well, in stark contrast. (Even the photos on this website are outdated by a few years, taken in 2004.) This is a bright spot about MTT, though much land still remains undeveloped and for sale.
Across the street from the Lakeside Condos is a row of 77 office buildings in a line down Bond Street, each 6 to 7 levels high. I call these the "Lakeside Office Buildings".
With the exception of 3 Lakeside Condo buildings bought for government employees of a particular ministry and which are full, the other 15 completed highrises have an occupancy rate averaging only about 20% to 30%, and there are countless units which were never sold by Bangkok Land. On the street level are shops, and the occupancy rate of these shops is also quite low, many never occupied since their completion more than 10 years ago.
The vast majority of the 77 Lakeside office buildings were unoccupied and some not completed as of 2002, but in 2002-2007 there has been a small resurgence so that occupancy is reaching the halfway mark now. They are very nice on the inside. The first 4 or 5 levels are open office space, and the top two levels are a penthouse, like a two-story house atop an office building. Still pretty innovative!
The same cannot be said about the Popular Office buildings, which have languished despite being close to Impact. Most of the floors are still pure cement floors and ceilings, dotted with supporting columns.
Likewise, the Lakeside Condos have not picked up since the 1997 crash, mainly due to peoples' psychological fears in occupying a unit in a mostly empty building, and an appearance of poor maintenance though all the vital things work. The tropical gardens on the 4th floor which connects all the buildings are all beautiful and carefully maintained, which lends a surreal peaceful feeling to the environment. The Thai laborers who maintain gardens, usually from poor country farming communities who came to Bangkok for money, have a very green thumb and typically Thai attention to artistic detail. The tennis courts and swimming pools are seldom used, and community facility rooms empty.
Behind the Lakeside office buildings is a middle class neighborhood that is almost fully developed and fairly nice by Bangkok standards.
Within both neighborhoods on lakeside are a large abandoned townhouse project (one in each).
There is a lot of land around the lake that is completely undeveloped.
Bangkok Land PCL is not bankrupt by the laws of Thailand. However, it has serious financial problems, to say the least. Development and maintenance continues at a snail's pace.
The only exception is Impact, which has grown ambitiously and seems to run as a separate business with little connection to the community. There isn't even any marketing of MTT properties within Impact. It's like the company focusses on one thing, and doesn't look beyond its walls, rather than seeing the synergies.
It's the slow rate of growth of occupancy of both office and residential buildings which is the main curiosity, and the practically nonexistent marketing of a region of great potential.
MTT is well outside of Bangkok's traffic jams, so that you can quickly drive to the nearby shopping and conveniences. There is also more than ample public transport, most of which gets on the expressway and gets off by the skytrain. The minivans from the Victory Monument skytrain station area often take less than 20 minutes to arrive at MTT (with the minivan station being at the central MTT market).
In summary:
Area 1: Older, small neighborhood, fully developed, all fine.

Area 2: Popular Condo, many buildings full, but many later buildings nearly empty or unfinished and languishing.
Area 2: Popular Offices, most buildings nearly empty, many floors just concrete columns, never occupied. Languishing. Near Impact.
Area 2: Impact, doing very well, so why isn't the rest of MTT doing well?

Area 3: Lakeside Condos, highrise, high potential but low occupancy, languishing. Gardens nicely maintained, and everything works, but spartan.
Area 3: Lakeside Offices, medium rise, high potential, occupation expanding well, 2002-2007, but many unused buildings to go.
Area 3: Luxury house neighborhood, fairly well developed with healthy expansion 2002-2007.
Area 3: Middle class neighborhood, fully developed by 1997.
Area 3: Two unfinished townhouse zones, one of them hopeless, the other with potential despite being dead 10 years.
Area 3: Land around the lake, high potential but high price, languishing.
In the rest of this article, I will try to describe the current situation, opportunities and roadblocks.
Discussion, Opinion
I've lived in the Bangkok region since 1994, mainly in middle to high class suburban neighborhoods, the kinds where you get a nice environment and community for a good price, but not the extreme luxury nor competitive ostentatious sorts of people. As a consultant from 1995-1997 in the engineering, construction and property development section for a large number of projects, as well as an exporesome sort for all my years here 1994-2007, I have travelled all around the Bangkok region and know it quite well. My Thai wife owns a real estate company, with me as her coach, though I do a wider range of work.
I've had an office in MTT since 2002, choosing MTT for its quick and easy transport into central Bangkok by expressway, yet it's very nice environment. I have tried to contribute to the development of MTT, though I've gone up against the brick wall of an unresponsive Bangkok Land PCL. I pretty much gave up by 2004, but I keep my office there and still love the area.
One of my staff, Mr. Kanta, still sells and rents privately owned condos, houses, and offices in the MTT area. Rentals come and go quickly (because there aren't many owned, and Bangkok Land gives us no commission on the stacks of unowned units), but if you're looking to own rather than rent, we have a large stock of privately owned condos for sale. Many people are dumping them at a loss, so that they can invest that money elsewhere. It's amazing.
Unfortunately, the great numbers of never-occupied condos owned by Bangkok Land PCL remain off limits to our business due to the refusal of Bangkok Land PCL to discuss ANY commission arrangement for these condos. We get the same response from the company CB Richard Ellis which is (or was) sole marketing agent for a big chunk of MTT. They put up big signs with their contact info, for empty shell places never occupied since completion in 1995, but don't seem to market much other than these signs which state they are the sole marketing agent, like they've got the contract and don't need to worry about competition. If I were CB Richard Ellis, I would be embarrassed to have my sticker on a shop for 12 years, revealing my lack of success in selling. I have to wonder how much CB Richard Ellis has invested in MTT compared to poor Bangkok Land PCL. When any of our property agents have offered to help sell or rent units, CB agents have responded with an arrogant monopoly attitude that they are happy to show units but no commission.
Funny, we've had condo owners willing to sell condos at lower prices than we can get from the monopoly people, and we also have already fit out and furnished condos at slightly higher prices, not just smelly dust bowls that have languished unmaintained for more than 10 years.
I wanted to buy a condo in Lakeside in 2001, but my Thai wife chose a house instead because her country mother doesn't like heights or elevators/lifts, and we had a baby daughter who needed extended family support while both I and my wife worked. I also sensed the Thai stigma of buying part of a failed project, from overheard comments. My wife subsequently regretted that decision of not buying an MTT condo after she started selling and renting them to foreigners, but she had already bought a new house under construction a little further down the expressway in Pathum Thani. Our top manager took a Lakeside Condo and loves it, like many of our customers. My wife and I have rented a unit shorttime from owners we know well, but it just makes us ask "what if we had bought this instead of our house..."
The MTT region is generally Thai, but there are many foreigners living in MTT, too. The Thais in the Lakeside region are generally high society Thais who can speak fairly good English. The western expats tend to be big business owners and smalltime entrepreneurs, not riff-raff. There are also some expat teachers of the more respectable sort. A number of retirees can also be found.
The area has a feel of modernity, clean air, open spaces, and a lot of shopping conveniences without the traffic of downtown Bangkok. On a hot day, you can just get in your car and drive to one of the shopping malls off Chaeng Wattana Rd. or down the expressway.
The area has mostly Thai restaurants with a vast range of styles and prices, but there are a few luxury western restaurants within MTT, though within 10 minutes you can be on Chaeng Wattana Rd. with a variety of western fast food and other western restaurants. Also, the best western grocery store in Bangkok, Villa Market, has two branches a short distance off Chaeng Wattana Rd. (in Grand Canal and Nichada Thani, two extremely luxurious neighborhoods).
I drive everywhere in the MTT neighborhood and surroundings, but when I go into Bangkok, I will often just take one of the expressway minivans to the skytrain, or just a taxi (and one is just a minute or two wait in MTT).
My house is right off the same expressway, and I enjoy the short scenic drive down the elevated expressway with little traffic. The region is very green and spacious. MTT is right off the northern edge of the cement jungle, and after that it's largely just open fields and green neighborhoods.
So what's the story with Bangkok Land PCL?
History of Muang Thong Thani
The founding family of MTT is an immigrant Chinese family of legal Thais with the surname of Kanjanapas. The first was the late Wong Chee-Meng, who was born in Bangkok in 1921 and grew up in Bangkok but returned to China to do business near Hong Kong, founding a company called Stelux which made watches and optical products. He returned to Thailand with his immediate family to get far away from Mao Zedong's Cultural Revolution in the 1960s, and moved into the property business in the early 1970s. As required by Thai law, he could not keep his Chinese name, so he adopted the Thai name Mongkol Kanjanapas. The late Mongkol Kanjanapas had 11 children.
Mongkol was very successful in the property business in the 1970s and 1980s, and amassed the land which was eventually named Muang Thong Thani.
Mongkol and his son Anand founded Bangkok Land in 1989, with Anand as CEO, and brought it public in 1992. In the 1990s, it became the largest capitalized stock in the Bangkok Stock Exchange, and its biggest development was the Muang Thong Thani project, costing around US $ 1 billion (though this number is debated).
In 1991, the family founded another company, Tanayong, which focused on Bangkok railway mass transit. One son, Keeree, became CEO. Notably, Keeree is also CEO of the Bangkok Skytrain company, Bangkok [Mass] Transit System (BTS), which was initiated by Tanayong. The nice skytrain is a great source of pride of Bangkok, like its elevated expressways.
Anant had worked his way into Thailand's political circle, even becoming a government-appointed Senator in 1991. Anant's role in the family business dates back to Stelux in Hong Kong.
Thus, the family has a lot of vision and public involvement.
However, Mongkol's great ambitions hit a financial brick wall. MTT was overdeveloped, and Bangkok Land's financial problems began emerging in 1995.
It's important to understand that the 1997 Asia Economic Crash didn't start in 1997. It did start in Thailand, and it was the result of gross overbuilding of real estate in Bangkok, whereby supply vastly exceeded demand, resulting in fewer tenants and lower prices, and thus shortfalls in revenues for property developers, unpaid creditors including banks, and a collapse of the Thai banking system.
The Asia Economic Crash is dated on July 2, 1997, when the Thai government was forced to float the national currency, the Thai baht, instead of keeping it pegged at 25 baht to the dollar, after draining its foreign exchange reserves. Almost overnight, the value of the Thai baht dropped by 50% to 33 baht to the dollar, which meant that Thailand projects which had borrowed from overseas, especially from the US, Europe, and Japan, saw their debts skyrocket overnight. The baht continued to fall that year to 57 baht to the dollar.
As a consultant, I had unpaid bills going back into 1996, and I saw strains going back further. It takes time for unpaid bills and liquidity problems to realize the financial crisis point.
Thailand boomed between 1985 and 1995, with an annual growth rate near 10% per year, one of the fastest growing economies in the world.
Many Thais got extremely rich in property development during this period.
A huge copycat mentality emerged. An Asian saying goes something like this: "Koreans invest in factories, Thais invest in land and buildings."
A very large "speculator" community emerged in Thailand. For example, many of the highrise condominium buildings built had many of their units bought by speculators who then resold the units, flipping them for quick profits, often within just a year or two.
While demand far exceeded supply in 1985, by 1995 the opposite was becoming true. The cycle had ended in a steep roller coaster ride, like a long ramp up and then a near nosedive.
Indeed, the Lakeside Condos have an awful lot of units which were bought by speculators, not people who intended to move in themselves.
As one informed source puts it (and pardon the poor English grammar):
"When the project first televised commercial appear back in 1989, it had taken the Bangkok public by surprise. Soon, over 60% of the project were sold out. Over time the market sentiments however tells a different story. It appears that the majority of the buyers are merely interested to speculate to sell, rather than living there themselves. The usually status concious Thai seems never to have bought into the idea of living in a big highrise 'condo' in the first place (including flats, mult-storey buildings for that matter). The statistic also reinforced this perception. According to a recent survey by CB Richard Ellis, to date there are over 330,000 vacant condominium units in Bangkok, while only a handful of thousands detached dwellings were unoccupied. (ref.)"
(I've also noticed that highrise condos in the Bangkok city center tend to have a heavy foreigner population disproportionate to the Thai occupation. Thais like houses. Further, I've heard that a whole lot of Lakeside highrise units were bought by Thais who subsequently simply abandoned them instead of making payments. The bankruptcy laws in Thailand were not well developed in 1997.)
In any case, Bangkok Land started freezing projects in 1995. You can see this in the 6 unfinished Lakeside Condo buildings, while the 18 finished Lakeside Condo buildings have many doors with a sheet of paper taped to them saying the unit has been completed, with a signature and date of 1995.
By 1999, Bangkok Land PCL's debt had reached around 60 billion baht (which would be nearly US $ 2 billion at today's exchange rate).
MTT was in the right place but at the wrong time. However, it is also partly a showcase of what was wrong with the Thai property mentality -- speculative. (After the 1997 crash, the many abandoned skeleton skyscapers were jokingly called "monuments to speculators". However, most of those resumed construction after 2002 ... except in MTT. Why?)
It was a great vision and wonderful plan, but just a few years too late. The first Popular Condos sold very well, but it was expanded much too quickly.
Anant was able to get some Thai government ministries to choose buildings in MTT, such as the Foreign Ministry, Defense Ministry, Police, and Thai Telecom. The Foreign Ministry and Thai Telecom headquarters both later moved to nearby Chaeng Wattana Rd. In any case, the government helped but only slightly offset the financial problems of Bangkok Land.
MTT is on the northern edge of Nonthaburi, the province just north of Bangkok which has the largest number of government offices. Nonthaburi straddles the Chao Phraya River, which Bangkok's two capitals over the past 600 years have developed upon. (Muang Thong Thani is not on the river, but is very near the river, literally about 1 km (less than a mile) from our office in MTT, further from other parts of MTT.) When you look at development of the Bangkok metro region, you see it developing along this river corridor. There are far more government offices in Nonthaburi than Bangkok, though the two are joined like a continuum. Thus, MTT is on the northern edge of a large, old middle class region. Chaeng Wattana Rd., which is the southern edge of MTT, has what was considered affluent Thai suburban neighborhoods 20 years ago, the wealthy edge.
This was behind the original thinking of the location of MTT, and it's fairly sound as a middle class to high society suburb, but MTT was developed too close to the end of the real estate boom cycle.
However, since 2002, the property business has been booming in Bangkok again. So why hasn't MTT picked up, too?
Answers, and More Opinion and Discussion
Marketing of MTT has failed, and I see this largely as a fault of marketing analysis & creativity, as well as poor management.
MTT has not fallen apart nor has it been abandoned. Impact has continued to expand with impressive vision. The commercial side of MTT has expanded with new market areas like Easy Peasy near the minivan terminal. Improved organization and services can be seen in areas such as public transportation.
The Kanjanapas family still controls Bangkok Land PCL and they haven't let it fail.
However, in my analysis, the family is missing marketing opportunities, is not doing some of the inexpensive basics to make the Lakeside or remaining Popular properties much more marketable, and the remaining Bangkok Land staff are often neglected and abused, leaving shiftless staff to run operations. There are a lot of complaint stories among staff which are really quite shocking if true. These problems aren't solved by discipline and ISO. They are solved by giving good incentives and bringing in new talent.
My company has offered to help them sell condos, but they say commissions are not allowed. They just want us to market for them, give them the customers, and not get anything to sustain our business!
MTT has tremendous potential, and I've been contacted and visited by quite a few investors. I will go ahead and state a few examples.
One investor represented a group. He had never been to Thailand, but bought stock just so he could attend a shareholders meeting, so he flew into Thailand for the first time in his life, met me, attended the shareholders meeting, and told me the following: The Bangkok Land CEO was not doing much more than answering questions in a disinterested manner, like there was no energy or enthusiasm. The company was giving property to banks in lieu of some of the money owed. He thought it would be high risk for a group to try to buy a majority of the shares in Bangkok Land because there were too many unknowns about the shareholders. However, many shareholders at the meeting were unhappy. There is other property that Bangkok Land owns which is in another part of town and must be assessed, too.
Others have inquired about buying one whole Lakeside Condo building. Just one building at a time. They would give it a new paint job, install a CCTV security system, put a nice receptionist downstairs, put up some decor, fix up the lifts cosmetically, and sell units. This, I think, is the most viable and best idea of all.
Everyone sees a chicken and egg situation. There need to be a few nice restaurants and entertainment places in the empty shops on Bond Street. It is widely believed that with a little bit of development, this could become a very trendy place.
It could easily be marketed to the vast numbers of people going thru Impact exhibitions and trendy events. However, there is practically no marketing of MTT within Impact. It markets only its own internal restaurants within Impact, which simply lack style and ecclectic pizzazz. Impact has become a microcosm with rare mention of the office buildings right outside Impact nor the beautiful Lakeside area and all the conveniences of MTT.
The market would be both yuppies and foreigners.
At the other extreme, I've heard ideas such as an offshore nursing home or retirement community for foreigners.
Unlike foreigners, Thais highly value new places, not secondhand ones. In fact, Thais are more status conscious, and there is a stigma about buying into a failed project like MTT. It's a copycat pack mentality. I think the best market for MTT condos is foreigners.
MTT is right at the northern edge where the Bangkok suburbs stop being densely packed. It is a short transitional area between the cement based city and pastoral settings. Beyond Impact and the "Popular" side, you're generally walking on grass. Most of the area is homes with yards, and lots of undeveloped land surrounding the residences. Go 10 minutes down the expressway and you're surrounded by rice fields. It is interesting to drive down the elevated expressway from Bangkok, thru MTT, and beyond. From Bangkok you are surrounded by densely populated neighborhoods until you hit MTT, and after MTT it opens up into some empty fields mixed with nice standalone houses and wealthy housing estates. MTT is the transition zone.
I can understand the Kanjanapas family not wanting to let go of what they've worked so hard to create and keep, but I think they need to bring in some new thinking and style if they are going to realize their potential of their creation within their lifetimes.
---
Notes
Below are some random notes which I have not worked into the website yet.
Upon completion of Challenger in October 2006, there was an article in the Bangkok Post in November 2006 by journalist Charoen Kittikanya who reported on Anand Kajanapas' first media appearance since 2004, whereby Anand took the opportunity to announce "We have now fully recovered and are looking forward to expansion, after having kept our heads to the ground for many years ... Several projects are in the pipeline over the next several years."
These new projects are a luxury shopping complex, a 500 room five-star hotel and high-end skyscraper at Muang Thong Thani. Quite ambitious! Estimated cost: 10 billion baht, or about US $ 300 million (June 2007 exchange rates).
These developments would be built on their "prime of the prime" location on the big lake near the expressway at Muang Thong Thani. One plan is for part of the hotel to be underwater. The available land size around the lake is 1000 rai = 400 acres = 160 hectares = 1.6 million square meters. It is within short walking distance of Impact as well as Lakeside Condo.
He claims that Bangkok Land PCL should be able do this without borrowing any money, but largely by selling land and assets. Anand also said that Bangkok Land PCL should be able to pay off the rest of its debts within a few years! He added: "What I have been dreaming of is about to be fulfilled after many years of hardship."
The Bangkok property market is strong enough now to make this seem plausible. However, skeptics point out that there have been announcements in the past that didn't pan out, resulting only in fluctuations in Bangkok Land PCL stock value. These include a shopping mall in the same location, a theme park, a Japanese retirement community, and a monorail around the lake (which reminded some people of the monorail around Future Park, which at least was started albeit not completed). As of June 2007 (the time of this writing), none of this extra development around the lake had been started at all.
In other news, major road construction in 2006-2007:
In December 2006, a bridge was completed over the river at Pakkred, so that Chaeng Wattana Rd. no longer ends at the river pier / market at Pakkred.
A flyover was also completed at the intersection of Muang Thong Rd. and Chaeng Wattana, which I didn't think was necessary but they must be anticipating an increase in traffic from the bridge.
A tunnel is being dug for Tiwanon Rd. to go under Chaeng Wattana at Pakkred. It's almost finished, but it's a traffic disruption right now.
Finally, a flyover is being worked on where Chaeng Wattana passes Lotus, the new shopping mall (called The Avenue), and Big C, starting just a kilometer or so east of the eastern MTT exit. Right now, the construction is causing a jam, but the flyover is over halfway completed.

When all this is finished by the end of 2007, there shouldn't be any traffic jams for the next decade as far as shopping goes. However, it looks like there may be increased traffic going down Chaeng Wattana due to the new bridge, which would be using the flyovers.

On the other hand, the bridge opens the MTT housing area to quick access to both sides of the river.

MTT has the potential to be an internet technology corridor due to Software Park on its border as well as other leading internet centers. Right now, there is no offshore outsourcing or other internet technology community in Thailand. Software Park is the closest thing, but I don't think it has been developed well, and it's just one skyscraper building on Chaeng Wattana Road, not really a "park" with a nice environment like MTT and Impact. However, it's just past the edge of MTT, just a few minutes walk from the MTT internal public transport system ("sawng tao" routes #1 and #3).

MTT is not near any tourist areas or historical places (though it's within about 30 minutes of the ancient capital Ayutthaya, just straight down the elevated expressway, the best link between Bangkok and the old capital!).

We've had inquiries for houses in MTT due to leading international schools in the surrounding area such as the International School of Bangkok (ISB, an American curriculum) and Harrow School (British).

My two daughters to go St. Francis Xavier school in MTT. However, it is a "bilingual Thai school", not an international school. It has some good western teachers, but also a lot of Filipinos. It's not a prestigious school, nor are there many foreigners at all in it, but it's worth mentioning, though I wouldn't recommend it to anyone looking for an "international school".

For Thais, there is also the Sukhothai Thammarat University, an open university, on the Bond Street side.

On the map below, Muang Thong Thani is the blue area to the left of the old Don Muang international airport (also blue).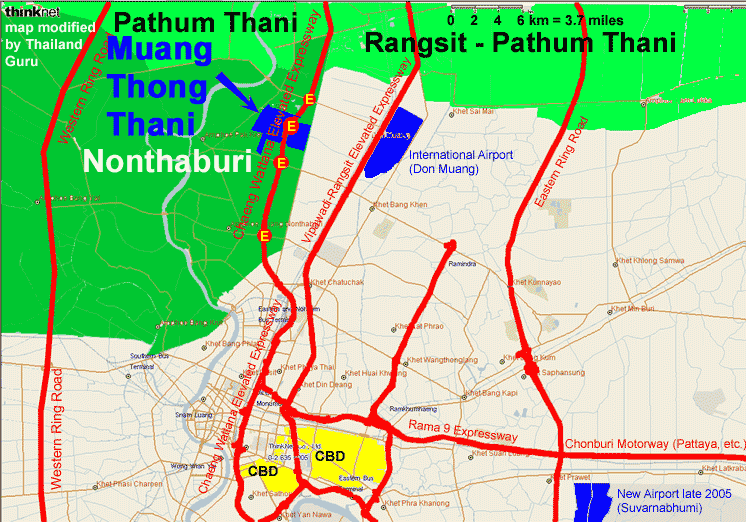 CBD = Central Business District (Sukhumvit-Silom). (The new Suvarnbhumi airport which opened in September 2006 (previously scheduled to open in 2005...) took over most international flights, but the Don Muang airport is still operational until some of the runways at the new airport are worked on further. There is no airport noise from the Don Muang airport because it is about 6 km away and the airplanes all take off and land north-south, never east-west. All runways are north-south.)
---
If you find any inaccuracies on this page or in this website, or if you have some information you would like added to this website, please let us know by clicking on the link for Contact us or else sending an email to

Foreigners can call Mark on his mobile at [phone number discontinued] or send a message by this website's contact form, email address, or office phone numbers.
See our Links page, too.