Shopping
Muang Thong Thani has practically all the day to day conveniences that most people need, and you don't have to deal with traffic getting there!
In addition, on Chaeng Wattana Road just a few minutes from the center of Muang Thong Thani, ALL FOUR of the giant foreign superstores built large complexes, the last of which was completed in 2003. There aren't many places in Thailand where you can drive past all four so close together -- Tesco Lotus (British), Big C (French), Carrefour (French), and Makro (British).
There is no big supermarket in MTT. There was a big, good one before on the Popular Condo side, but it died during the recession. When Tesco Lotus opened up its two little grocery stores, plus Tops opened up a little one, this market died. However, two branches of Villa Market, a luxury grocery store chain which originated in the foreigner part of Bangkok, have opened off Chaeng Wattana Road, one in the Grand Canal area, and the other in the luxurious expat neighborhood Nichada Thani (where the International School of Bangkok is). There are also some natural foods stores on Chaeng Wattana, and a Foodland beside the Laksi IT Center off Chaeng Wattana. It has also been commented that maybe not many people in the Popular Condo side actually cook at home due to the small size of those units and all the food served at the markets, but Lakeside Condos have kitchens, just not many occupants.
In the Popular Condo section, the ground level of every condo building is a row of shops catering to the consumer needs of the immediate area (you can click on the photo for an expanded version):


The shops tend to cater more to single ladies, as MTT has a high percentage of single ladies who feel safe in Popular Condo due to the security and full occupancy of the condos. It's amazing to watch all the office ladies and students coming in from public transport at night! (When they're not shopping, many are hanging out with their girl friends.)
Besides at the ground level under the condos, there are lots of shops spread all over the place, and also an open air market near Popular Condo which is most populated with vendors in the evening and nighttime, who come and erect their stands daily, sometimes just covering them with plastic if a shower comes.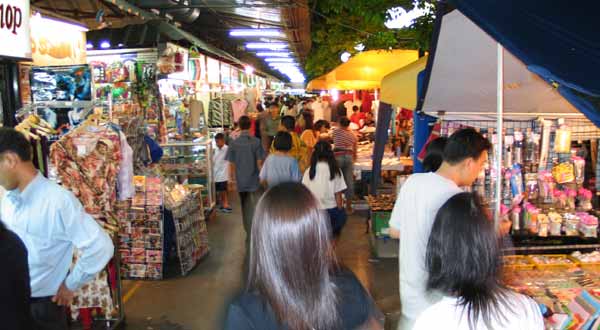 The new Easy Peasy air conditioned indoor facilities has a lot of small shops constructed, and they seem to be filling up fast at the time of this writing. It's quite a mix of goods and services. Sorry, I don't have any photos of this yet, even though I eat there often! Very cheap yet quite clean and good!
There are more coffee shops in the market than you can shake a stick at, but people love coffee ...
The Sunday morning market is phenomenal -- the fashionable selections of clothes, the low prices, and the sheer diversity of items for sale. Some foreigners you'll see browsing around with savvy are actually buying things for selling on eBay, and support themselves in Thailand this way, by living economically yet nicely in the suburbs and exporting on a cottage scale.
The above is all on the Popular Condo half on one side of the expressway.
On the Lakeside Condo side, all the shopping is down in the older part of MTT near Chaeng Wattana Rd. -- where it's chock full -- not in the highrise condo area, where it's mainly offices, restaurants, and classy places like spas just spread around, not concentrated. The Lakeside part is more residential and quiet.
Some of the most exciting shopping is at the Impact Exhibition and Convention Center from time to time. There are many large exhibition halls, and at any one time there are multiple different tenants, typically for a few days at a time. New products being featured, imported or exported often come here -- home products, kids toys, foods, jewelry, textiles, gifts, and on and on!
Impact is already well known for the periodic OTOP (One Tambon One Product) groups of vendors (it seems like more than a hundred at a time), which is one of the shows that repeats for several days once every few months. Otherwise, every week is different.
Besides these "shopping" opportunities at the Impact Exhibition Center, there are also a lot of interesting non-shopping events at Impact -- conventions, presentations, concerts. 2004 has already seen Carlos Santana, Enrique Iglesius, Disney on Ice, ... but this is off-topic about "shopping".
Every day, going in and out of MTT, just look at some of the signs that go up and down regularly, announcing some of the things going on. There's also the Impact website at www.impact.co.th, but it seems to miss a lot of stuff going on, so I pay attention to the signs on the road and around Impact, too.
Here is a partial list of business categories and businesses in MTT:
[This part is under construction.]
Office support services
Home improvement
Mobile phones
Health care, spas
... [etc.]
Restaurants -- crosslinked with that section
...