Businesses
ours here, too!
Schools
Inside MTT is:
the St. Francis Xavier international school, which is quite good.
Very close to MTT are two international schools packed with the children of expats:
International School of Bangkok (ISB) in Pakkred, one of the very best in Thailand, just a few kilometers from our office, with a US curriculum and style of education, 2000 students

Harrow International School in Don Muang (airport district), uses the British National Curriculum (IGCSE and IB), and is aa division of the Harrow School headquartered in London, on a 76 acre campus near MTT (opposite direction from ISB above)
MTT is next to the best schools. Tell me -- where is a better school in Bangkok?
People who choose to live near their workplace come here on the expressway to drop off and pick up their kids at these schools. I don't understand why more people don't just live up here next to the expressway, so their kids can take the bus or carpool home when school gets out, and they themselves can go to and from work when it's more convenient...
MTT's own St. Francis Xavier international school, high school part of the campus: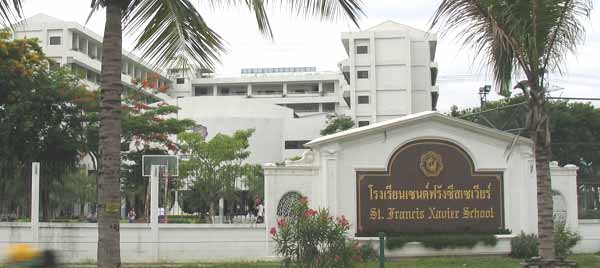 My 3 1/2 year old daughter goes to another part of the St. Francis campus in MTT near the elementary school classrooms, and I must say that I am impressed with the quality of the library and the science laboratory.
The International School of Bangkok and the Harrow International School are heavily populated by the children of expats, whereas St. Francis is a predominantly Thai school though there are foreign children and most everything is in English.