Condos and houses for rent and for sale
If you want to rent, buy or sell a condominium, house, land or office, please contact us by calling Khun Kanta (Thai) also at [phone number discontinued], or just email us at

For living space, there are three main options in Muang Thong Thani:
"Lakeside Condominiums" - the highrise buildings on Bond Street on the west side, from 22 to 30 levels tall, which have nice condos of various sizes, mainly 2 bedrooms

Houses behind the condos and office buildings on both sides of Bond Street in the Lakeside region, ranging from ordinary houses to highly luxurious ones

"Popular Condominiums" - the blocks of 10-level buildings in the vast complexes behind Impact Arena
Lakeside Condos
Lakeside condos: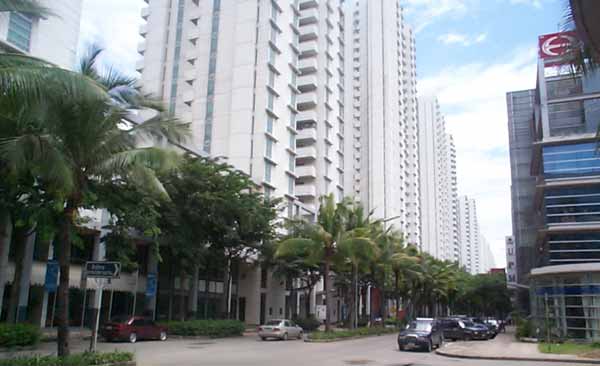 The condos in the Lakeside section are nicer and more spacious, but the occupancy rate is low in those buildings, though security is passable. Occupancy rate is low. Thousands never sold, still owned by the development company. Many were bought by speculators for resale or renting out, but who went bust instead. Quite a number were bought by Chinese people in Hong Kong shortly before the China takeover in 1997, but they haven't moved in afterwards. Contact information is outdated and they don't even visit, but we can find them. Altogether, most units have never been occupied since they were built. Of the units that have been occupied, there are many really nice condos, often occupied by luxurious minded high society people who bought the condos when they thought MTT would be a trendy place. At any given moment, there are a few units available for rent or purchase in various buildings.
Most are 2 bedroom, but some 3 bedroom models also exist. Most are 85 to 100 square meters (roughly 850 to 1000 square feet), but a few buildings have cheaper 55 square meter units. Starting prices for the 85 square meter units is less than $ 50,000. For the 55 square meter units, they get a lot cheaper than that!
Click here for more photos of Lakeside Condos!
(Our office is located on the street level under one of these Lakeside condos.)
Popular Condo
The "Popular Condos" are downscale and older relative to the Lakeside Condos, and are cheaper Thai housing. They are studio and 1 bedroom models, very small compared to the Lakeside units which are all 2 and 3 bedroom. Nonetheless, many expats live over there, such as English teachers in the various international schools in the area, and guys and gals who just like this suburban location and its conveniences. The buildings near the market are fully occupied, but the buildings further away from the market were built later and many have low occupancy rates. You can buy many of these for less than $10,000.
This photo shows the number of Popular Condo buildings -- behind the elevated expressway and the Impact Arena and Exhibition Center:

Photo taken from down the expressway:


A closer photo of the left side section of the photo above:


The condos in the Popular section have a much wider selection of shops and food within very short walking distance. The Popular section has a much higher population density, which makes many single females feel completely safe. Vacancy rate is very low, and it is not easy to find a good condo over there, even though there are about 24 (?) blocks of condos. Each block is almost exactly square, and has an open aired central courtyard inside.
Photo of Popular section: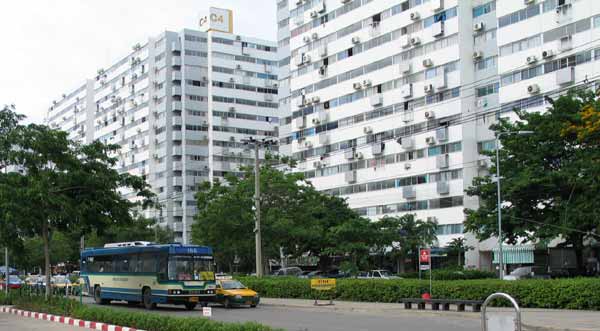 | | |
| --- | --- |
| Satellite image of Popular Condos and nearby office buildings: | There is a courtyard in the center of every Popular Condo building. The hallway is an endless loop, with some condos on the outside (facing the street) and other condos on the inside (facing the courtyard). Each floor has approximately 40 condo units, some more. |
I like some of the quiet and less trafficked units a little further down the street.
Click here for more photos of Popular Condo
See also our section on Houses and Land.
If you want to rent, buy or sell a condominium, house, land or office, please contact us by calling Khun Kanta (Thai) also at [phone number discontinued], or just email us at