Restaurants
This section of the MTTBKK.com website will eventually list restaurants and a map.
Muang Thong Thani has countless restaurants covering a wide range of Thai, European and American cuisines, though Thai food predominates.
Even after normal hours, you can find various all night eateries around the area!
Countless people who don't even live in Muang Thong Thani come down off the expressway and into MTT to eat here or else pick up food to take home to their families.
The famous huge Muang Thong Thani food court in the Popular Condo section is nothing less than spectacular to the newcomer, and many people go there every day for a few weeks. The cheap prices and vast selection of truly "fast" food of a wholesome nature along two 80-meter tracks is awesome, though the ceiling fans aren't always adequate to keep you cool enough during lunchtime. Here's one of the tracks: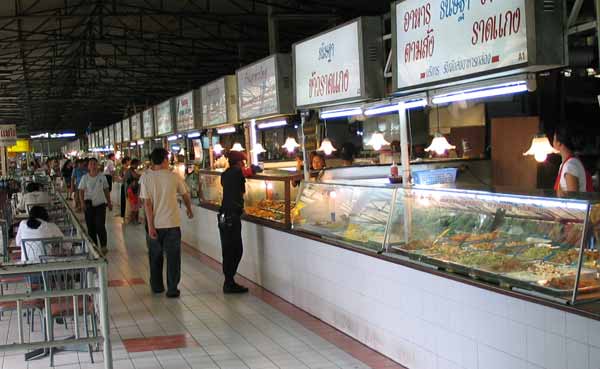 You don't have to say anything. You just point to two things, and they put scoops on top of a plate of rice. Typical cost is 20 baht (half a dollar or half a euro). There's also steaks cooked to order, beer, salads, fresh fruits, all sorts of snacks, a wide assortment of beverages (fresh ground coffee, fresh fruit drinks, shaved ice with condiments...), and so on. Foreigners are commonly seen there day after day after day.
As part of the above complex, there is also a fresh seafood restaurant where the seafood are kept alive in many tanks, and offering both air conditioned and open air seating, with waitresses. A band plays on the stage half the time.
Around the corner is the new line of streetside shops in a zone called Easy Peasy, which is trying to bite into the food court business with all air conditioned places and more modern styles. Thus far, Easy Peasy has been offering a lot of things not in the old food court, trying to differentiate itself.
The competition between ambitious restaurants has gotten so intense that you can see ads posted on vehicles driving around, and even a custom vehicle circulating in Muang Thong Thani to pick up and drop off customers!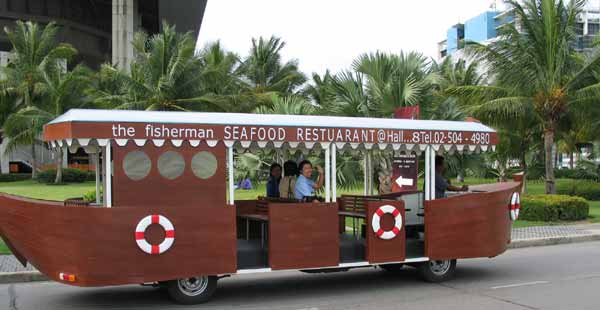 Most of the restaurants in the area are very economical, and you could eat at a different restaurant every day and go for months before you visited any restaurant twice!
In the cool season, there are beer and Thai wine festivals with live bands in the parking lot of Impact Arena and occasionally on blocked off street sections in the Lakeside Condo area.
Some of the main restaurants:
The Fisherman Seafood Restaurant (near Impact Arena)

Cafe de France, remarkably economical! (Bond St./Lakeside)

Mr. Enzo's italian restaurant (Lakeside, in housing neighborhood)

S&P (Bond St.)

CNN (Bond St.)

Country Place (end of Bond St.)

... ... ...
Under construction: For each one, we'd like to put in a photo and a map.
We may also include restaurants within short driving or taxi distance, e.g., the Mexican restaurant Que Pasa near the International School of Bangkok (warning: their website plays music).
A Bond Street restaurant: