Businesses
ours here, too!
Office space for rent and sale
If you are looking to rent, buy or sell office space, please contact us.
Nice office space exists in both parts of Muang Thong Thani, in buildings designed for spacious office layouts and attractive for employees. These are some of the most economical buildings you can find in the Bangkok metro region which are attractive to workers, near an expressway, and with nice public transport for employees. The large number and diversity of nearby restaurants, the nearby office supply and support shops, the open roads with low traffic, and ample underground parking (plus shaded in front) make the Muang Thong Thani satellite city zone one of the best places to locate an office.
Muang Thong Thani office and commercial space can be split into several categories:
"Lakeside Office Buildings" -- On the Lakeside half, the dedicated office buildings are located directly across the street from the Lakeside condos, and extend for the entire length of the condo strip, plus continue on several hundred meters further. The buildings have 6 levels of wide open floor office space with an elevator at the front, plus a 7th level underground for parking. Most companies rent just one floor in the building, but a few large companies rent or buy an entire building. (This is regular office space in that it does not cater to people in the region.)

"Lakeside Shop Space" -- Also on the Lakeside half, underneath the condos, the ground level is purely office space, though these offices are much smaller than the ones across the street in terms of floor space. About half are offices, whereas the other half sell over-the-counter goods & services to consumers living in the condos and working in the offices. They are 2-level, with a stairway inside the office.

Some startup companies start with a small office here for a year, then move across the street when they grow.

There are even smaller offices on floors 3 and 4 of the condos which rent very economically and are nice with tree-top views, but are not accessible directly from the street, instead by the elevator, parking lot, or internal walkway in-between the condos. Some people who live in a condo on floors 5 to 30 will rent a separate office on levels 1 to 5, for employees to work in, and/or for meeting clients occasionally, and/or just for a conference room.

"Popular Office Buildings" -- On the Popular Condo half, there are eight large office buildings with a similar artistic design as the Lakeside Office Buildings, but scaled up much further. Thai government offices and their affiliates take up some of this space, but much is still available for private leasing.

"Popular Shop Space" -- On the Popular Condo half, there are two kinds of shop space, which tends to be dedicated to serving consumers living in the condos, though many outsiders get off the expressway at Muang Thong for a quick bite to eat or some shopping for fruits, vegetables, clothes, DVDs, etc. One is the streetside level of the Popular Condo buildings, and the other is around the food court where a sprawling and growing shop area thrives.

Impact Arena and Exhibition Center -- Office space inside the Impact complex caters to the constant stream of visitors going to events.

Old Muang Thong -- on the Lakeside half of the expressway but down towards Chaeng Wattana, in the older part of Muang Thong, are countless shop houses with old money and various other ecclectic structures from the 60s, 70s and 80s, but those are rarely available for rent or purchase.
These buildings are actually quite nice! Each floor is wide open space, and the entire perimeter is windows looking out over the street and condos in the front, and a nice neighborhood in the back with a view of the horizon.
With quick access to the expressway by Muang Thong's own exit, it's a wonder why these office buildings remain less than half occupied! There are 77 buildings, all lined up along Bond St.
Their occupancy rate has been low since they were created, and in fact they helped create the 1997 Asia crash due to the glut in the Thailand office space sector. A number of them went into legal limbo which kept them unavailable until the current government's Asset Management Corporation (AMC) cleared them for the market in recent years. There has started to be a comeback to this area and the occupancy rate is climbing slowly.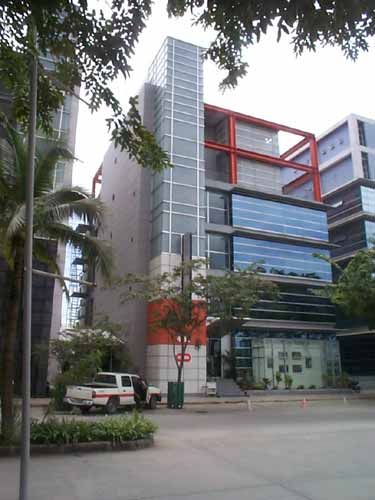 Most buildings are leased by the floor, not by the whole building, and you can see which offices are in a particular building usually by the signs in the front. Some signs are more obvious than others. Muang Thong Lakeside tends to be more ergonomic. The occupants tend to have a bit of class, too.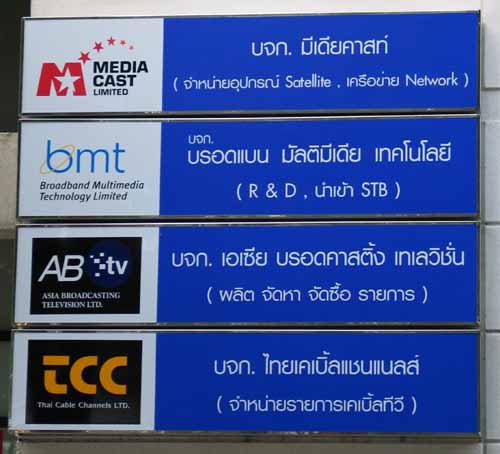 There is parking for clients in front, though employees use the underground parking, and clients may do so, too. However, there is the quick access in front, and it's in the shade most of the day. The angle-in parking allows more cars to park in front.
Lakeside Shop Space
Underneath the condos at the street level is a continuous row of much smaller, 2-level commercial space properties. These tend to have three kinds of tenants: (1) offices for companies or branches which have up to 10 employees, (2) startup companies, or (3) shops catering to the people living in the condos and/or the office workers across the street and/or drive by customers.
Here are two adjacent shops -- Cafe de France next to a bakery: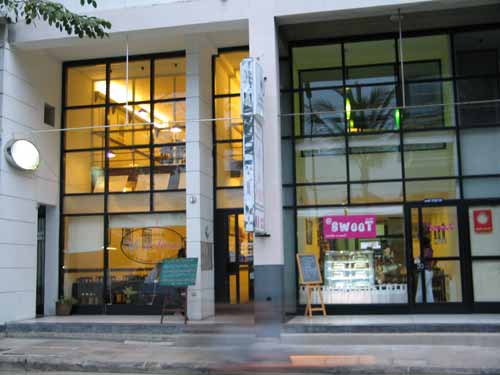 In addition to these streetfront shops, there are also small office spaces and conference rooms located on levels 3 to 5 in the continuous condominium complex. They have windows along the streetside at around treetop level, but access is by the elevator or from the parking lot. These are quite economical, but when a visitor arrives, you usually should meet them at the street or else guide them in detail. The condominium does not have office signs inside by the elevator, though you can put them on your door.
Some people own or rent a condo and also get office space on a lower level, so that employees do not need to work in their condo, and clients can visit the office space. This separates home and office by an elevator and a short stroll, more or less. Photos of level 3-5 offices
This "office space" is separate from condominium space, and is clearly office space. However, many people have bought a condominium and then used it as a home office, as witnessed by the signs on the doors of many condos. That's different -- residential space -- and not what is addressed in this section. Of course, you could do that, too.
Popular Office Space
The are only a few purely office buildings on the Popular Condo side, but these are large.
The office buildings were originally occupied by Thai government offices and their affiliates, though there has been a trend towards more purely private sector offices.
Here is one, with a few cannons in the front (pointed towards the expressway), and condos in the background. The front of another office building across the street is on the edge of this photo.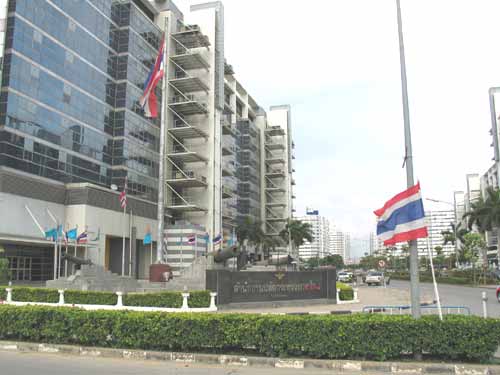 The benefits of offices here are having the expressway ramp a minute away, a large workforce of economical labor within walking distance, an expressway bus that goes to the Victory Monument skytrain station (and bus hub) which stops right in front of the offices, and a wide range of office support shops as well as diverse eateries right there.
Popular Shop Space
On the Popular Condo side, there are a lot of shops for over-the-counter sales and service to consumers, and this commercial space continues to slowly grow with new construction. While most of it caters to consumers in the area, there is also some commercial space around Impact Arena and Convention Center which depends significantly on the crowds passing thru there.
Impact Arena and Convention Center
The name speaks for itself. There is commercial space located inside. However, it's run tightly. The Prime Minister's family and some of the highest level people in Thailand are involved in this grand enterprise of great value to the country's development.
Impact Arean and Convention Center is one of the most interesting places to live near. There are multiple events going on at the same time, they change every few days or so, and the place is booked solid well into the future. In 2004, construction was completed on a major expansion of the convention center, and there is another building about to be started for which underground parking has already been dug up for.
Old Muang Thong
On the Lakeside half, if you continue down Bond Street past the new part and into the old part, the whole section between Chaeng Wattana Rd. and the newer Muang Thong Thani is an older section full of shophouses along the road and a nice old neighborhood with many old mansions behind it.
While there are a lot of good restaurants and commercial shops down there, there isn't much as regards office space.
Checking Out Muang Thong Thani
As our office is in Muang Thong Thani, it's quick & easy for us to show you around if you are seriously considering the possibility of renting or buying commercial space in Muang Thong Thani (or residential space, too).
Just contact us!