Lakeside Condos, Waterside Properties, For Sale and For Rent
If you are looking to rent, sell or buy a condo, please contact us.
There are presently 18 highrise condo buildings which have been completed along Bond St. (plus another 6 unfinished ones down the road a short distance). Each condo building has its own name, but altogether they are called Lakeside Condo, as opposed to Popular Condo on the other side.
The rent varies between 3500 and 15,000 baht, depending on furnishings, air conditioners and size. The sale price is typically in the 1,200,000 baht to 1,800,000 baht range, approximately.
The layout and size varies, but most rooms look more or less like the following 2 bedroom condo. There is a living room, kitchen or kitchette, two or three bedrooms, one shower with tub, one or two toilets, some have a dining room (separate from living room and kitchen), a small storage closet by the front door, and one or two small terraces.
Below are 6 sizeable. Please be patient while they all download, or else you can scroll down to read the history and both the plusses and minuses of these condos.
These photos are for one particular condo. Interior furnishings will vary from condo to condo.
Living room: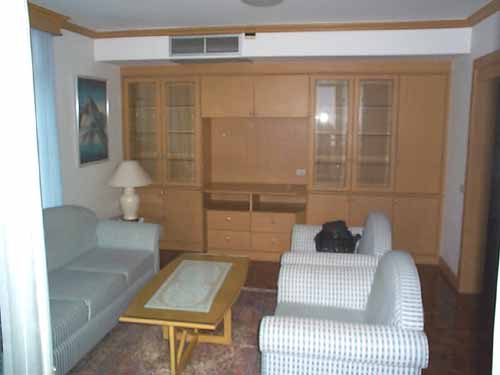 Dining room (with kitchen in background rightside):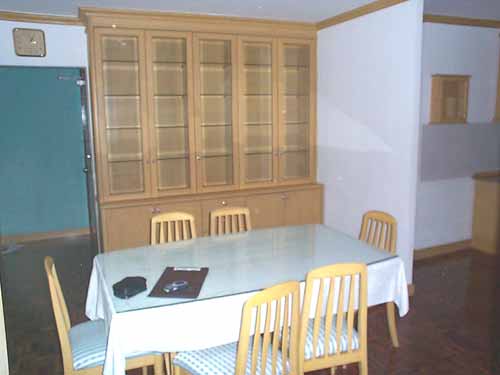 Kitchen, pictured at an angle looking away from the refrigerator, with a covered 4-burner stove on left (some units have an oven below):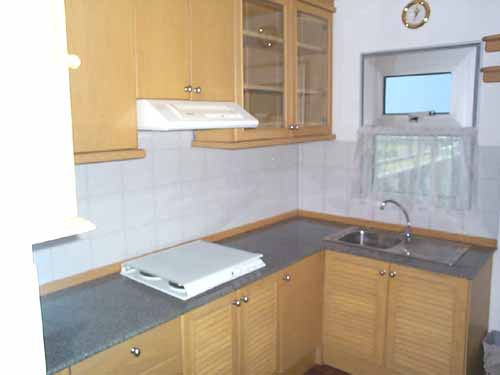 A bedroom (and the view out the window is nice but unfortunately covered):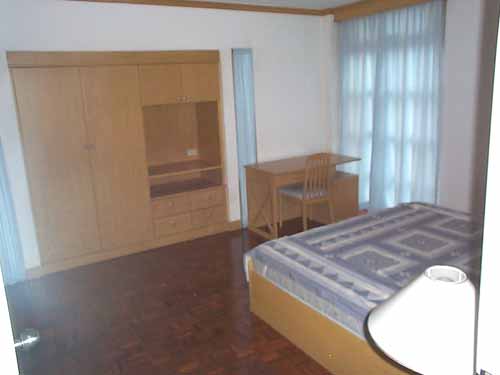 A view of the bathroom is shown below. Not shown is a cavity behind the door of many units where a washing machine is designed to fit, but many people just put their washing machine onto a terrace where there is also a drain.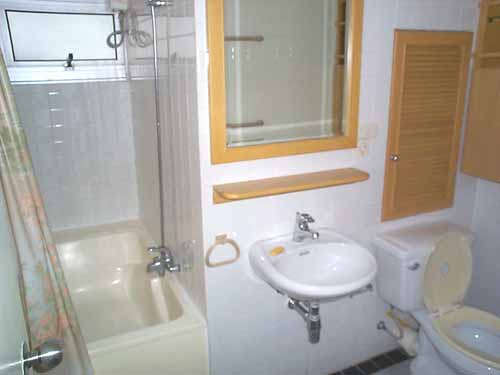 The view off the back terrace is practically the same for half of all the condo units: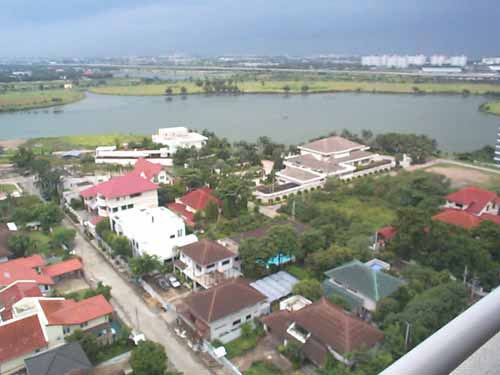 In addition to the condos up in the highrise buildings, there are also some condos as well as office space within levels 2 thru 4 and going in-between buildings. You can actually walk all the way down the street by walking thru all 18 buildings at level 3 or 4.
There are three levels of parking inside the buildings.
There is a security guard at every public entrance to the outside, so you cannot just walk in and look around as an unknown person. However, security is not extremely tight.
Most places have both their good side and their bad side, so I will tell you the whole story here.
The occupancy rate of these buildings averages only about 25%, i.e., about 75% vacancy. This is why the prices are low. There are two reasons for this, both related to events in 1997. Muang Thong Thani was finished and all units were sold in 1995.
Many buyers were from Hong Kong who were moving money out of Hong Kong before the territory's control changed from the UK to China on July 1, 1997, and looking for an alternative place to live. At the very least, they thought, a property investment in booming Bangkok wouldn't go wrong. When things continued normally in Hong Kong, they didn't move to Thailand.
A second and bigger reason is that Muang Thong Thani was finished and all units sold shortly before the 1997 Asia economic collapse, and most of the buyers were the worst sort -- speculators who thought they could resell the condos at prices much higher than they were buying them. (This included Thais, Hong Kong Chinese, and some foreigners.)
You should understand that this was the cause of the 1997 Asia economic collapse, which started in Thailand, and Muang Thong Thani is a classic example. So many Thais got rich on property in the economic boom of 1985-95 that property speculation became extremely popular. Before 1997, banks and finance companies would approve property purchases to cronies with small down payments and flimsy collateral standards.
Because condos were the only property that foreigners could legally own (since foreigners can't own land), many foreigners were on the speculation bandwagon, too.
When Muang Thong Thani opened sales, there were huge crowds pushing to purchase condos like crazy. It was a beautiful satellite city with both nice condominiums and flashy office buildings, and an elevated expressway was coming there. Muang Thong Thani sold out quickly.
When it became apparent in 1996 that property speculation had actually created artificially inflated "bubble" prices, and the property bubble started to pop, buyers started to realize that they prices wouldn't return to their buying level for at least 5 years, and then the imminent 1997 crash happened due to massive defaults on property bank loans (requiring an IMF bailout). Many speculators and most finance companies went bust all over Bangkok. With very bad bankruptcy laws in Thailand at the time (and still today), a country that had never experienced a bust like this, many properties went into legal limbo for awhile, before being bought up by longterm investors at market prices when the property market recovered around 2001-2002.
We have found both foreigners and Thais who own many units each. For example, in our building, one American guy had bought 11 units, and after almost 10 years only two of those units have ever been occupied.
From 1997 to 2002, Muang Thong Thani was almost like a ghost town. Many condos and office buildings were occupied and still are, but the majority of units were not and never have been occupied.
To some measure, it's a buyer's market, which is quite the opposite of prices in the central business district where it's a seller's market. However, the remaining sellers are longterm survivors and fairly recent speculators. Some sellers just want or need to get their old money back.
The result is that rental prices are low, but sales prices have stabilized in the 1.2 to 2 million baht range. All the prices are still good at this time, especially compared to the prices elsewhere, but the prices in Muang Thong Thani will now only go up over time. This has been the case since around 2001.
There is no question that Muang Thong Thani has a good present and an even better future. Public transport between Muang Thong Thani and central Bangkok is exceptionally good as a suburb, its located near the international airport and in a leading technology corridor, the elevated expressway going right thru Muang Thong Thani links it to everywhere else, the surrounding environment is nice suburbs, it already has all the modern conveniences within just a few kilometers, and ...
... every nice modern building which was built in Muang Thong Thani can and will be easily and economically cleaned up and refurbished in due time.
It is only a matter of time.
Personally, I like things the way they are today, and that's why I'm here. I wonder what the place would be like if it had an 80% occupancy rate. Surely, property prices would go up a lot, maintenance would improve, and there may even be a serious renaissance as the many currently empty office buildings, shop spaces and condos come alive.
At present, the employees of the Muang Thong Thani office buildings and shops mostly live outside of Muang Thong Thani, and that may not change because transport is so easy. However, the nature of the offices, shops and condos would surely transform in some ways, a synergy between the three kinds of properties in the same community.
Muang Thong Thani is sure to change and evolve, but I do like this community the way it is today, so peaceful, spacious and convenient. There are always tradeoffs.
There also always comes a time for change. Change which will surely have its benefits, such as higher resell prices when MTT starts to fill up in the future. How long that will be, nobody knows. 2 years? 5 years? 10 years?
If you have any questions, please feel free to contact us.
(If you read this while waiting for the photos to download, just PageUp.)