Directions to Our Office
Inside Muang Thong Thani, we are on the "sawngtao" #2 and #3 routes.
Using public transport from Victory Monument (skytrain station or buses), you can take the 166 aircon expressway bus, but we recommend that instead you take a "minivan" shuttle bus (roht dtu). To find these, just walk to the north side of the Victory Monument circle (on the elevated walkway) -- the opposite side of the circle from the skytrain station. They are under the elevated expressway just about 50 meters north of Victory Monument. They get off at the exit there, pick up people, then get back onto the entrance there. That will bring you straight to central Muang Thong Thani (no stops along the way!) and everyone gets out at the same place. From there, you can take the #2 sawngtao (also, "Tiwanon" on the vehicle sign) or else just hand the map below to a motorcycle taxi at the stand there.
If you are driving or taking a taxi, then follow the map below. We strongly suggest that you take the "Option #2" second exit for "Muang Thong Thani" and not the Option #1 exit for Chaeng Wattana. Many taxis will take the free Chaeng Wattana exit instead of going another kilometer to the 20 baht Muang Thong Thani exit, then they get lost. The first time you come (if not always), choose Option #2 because it's simpler to find our office this way. Also, the second exit gives you a good elevated view of Muang Thong Thani before you exit, and a nicer ride.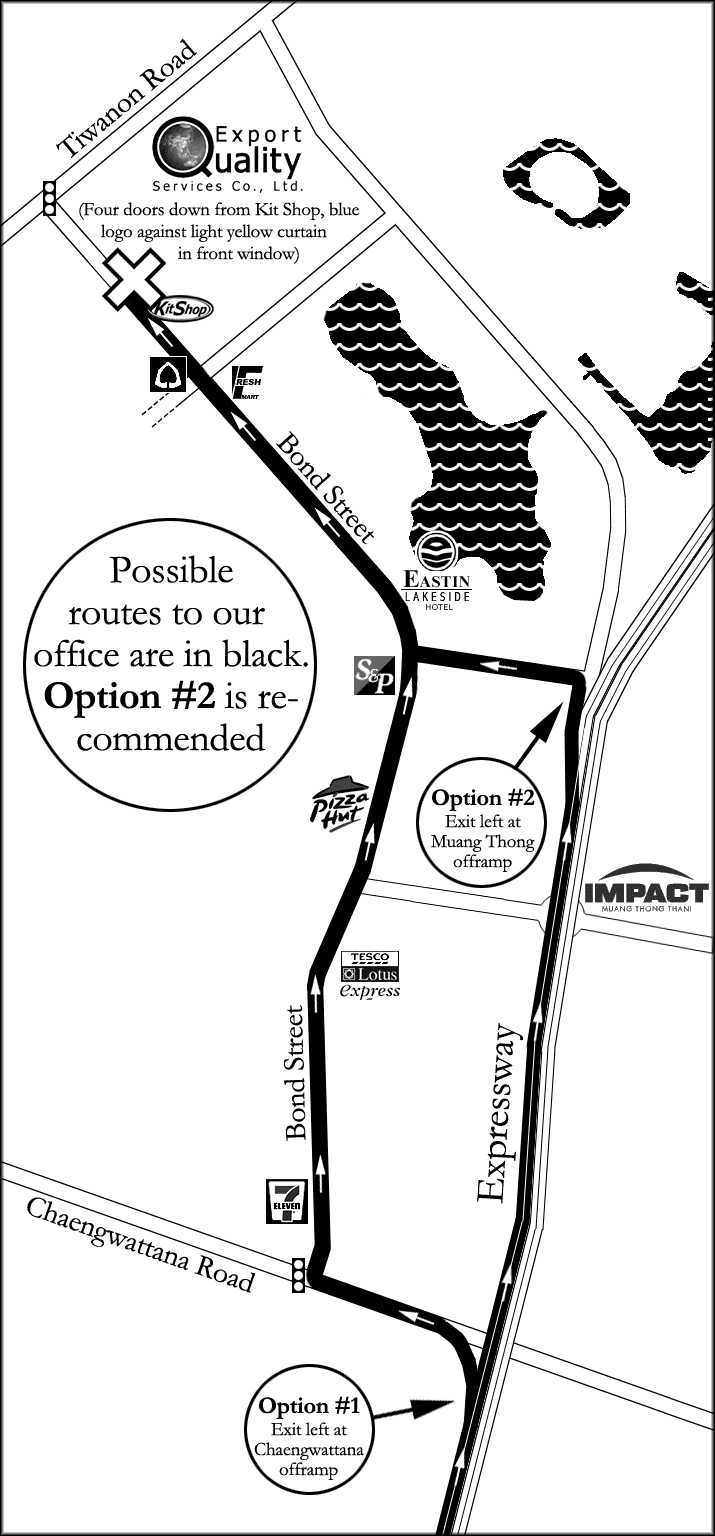 The front of our office looks like this:
Keep this contact info handy:
Mark or Khun Kanta
[phone number discontinued]
226/15-16 Bond St. (16 on door)
between Riviera 2 and Riviera 3



www.MTTBKK.com (this website)