Muang Thong Thani (MTT), BangKoK ("BKK")
www.MTTBKK.com
Muang Thong Thani (MTT) is a unique satellite city in the Bangkok (BKK) metropolitan region, with very economical and beautiful highrise condominiums at a small fraction the price you would pay in central Bangkok, open spaces, and numerous restaurants and businesses, nearby superstores, and nearly every convenience you can imagine. The MTT region is located just half an hour down the elevated expressway from Bangkok's central business district, and with a variety of good public transport, including a less-than-25 minute 25 baht expressway shuttle buses to the skytrain (either the Victory Monument skytrain station at the bus hub, or the first skytrain station Mochit). The elevated expressway goes right thru the center of Muang Thong Thani, and we have our own entrance/exit ramps. Traffic and pollution are practically zero. There is no other place like MTT in BKK!!
The history and entire situation of MTT is discussed at length in the menu selection About MTT -- the good, the bad and the ugly.
This website serves as a business and living guide for the community. Businesses and people can advertise and announce things FREE on this website! We also give advice, like super-fast internet broadband in MTT. You are invited!
If you have information you would like for us to add to this website, or if you have properties to sell or rent, or are looking to buy or rent -- highrise condos, houses, or office space -- then please contact us at

or fill in the form at the bottom of this page. If you are a foreign investor and want to speak with another expat, then call me, Mark, at [phone number discontinued].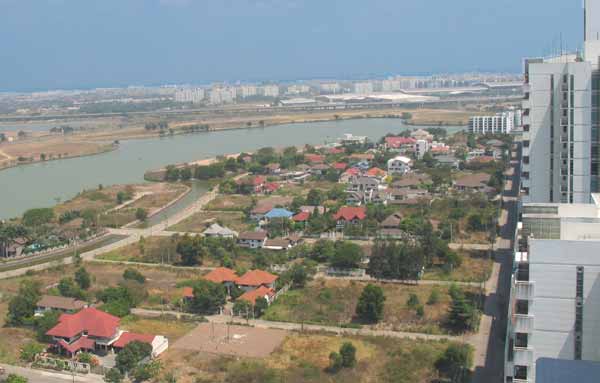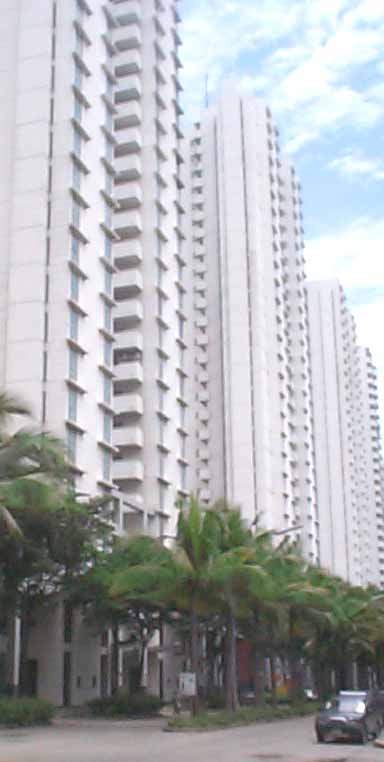 You can click on the top left photo for a magnified view.
Top left: A Muang Thong Thani neighborhood as viewed from one of the "Lakeside" condos. Note the elevated expressway in the background, and that's the Impact Exhibition Center on the other side of the expressway to the right, the largest exhibition center in southeast Asia.
Top right: Bond Street's highrise condos, between 20 and 30 levels each.
Bottom left: Bond Street's office buildings, 5 to 7 levels. (The main parking area is underground.)
Bottom right: Fleets of "sawngtao" pickups circulate on the main roads constantly, 5 baht to anywhere.

On July 2, 2007, BBC World News interviewed the MTTBKK.com webmaster Mark Prado by BBC Bureau Chief Jonathan Head:
Muang Thong Thani, Mueang Thong Thani, or Muangthong Thani?
"Muang" means the center of a region.
Thong means "gold".
Thani means "town".
3 separate words.
Just remember MTT, like BKK.
It's just west of the old Don Muang airport by about 5 kilometers. (The airplanes take off and land north-south, so MTT does not get audible airplane noise at all.) The new Suvarnabhumi airport is down the expressway.
Muang Thong Thani was designed to be a new satellite city in the region, but this was shortly before the 1997 Asia Economic Collapse, as discussed in the section "About MTT". Nevertheless, it is a well selected place, with unique advantages in the greater BKK metropolitan region, and properly linked to the city center and transport hubs by expressway public transport buses and minivans.
As in practically all Thai city names (with few exceptions), it's possible to see them spelled more than one way in romanized A-z. The proper spelling is in Thai, not English. The "de facto" romanized spelling is Muang Thong Thani. However, you'll see that the expressway exit signs have an "e" in there, Mueang Thong Thani. That's the only place I see it spelled with an "e". In Google, there are 12 web pages with the "e" as "Mueang Thong Thani", and over 3000 web pages with "Muang Thong Thani". Occasionally, you'll also see Muangthong Thani. The word "muang" is used in many other places, since it means the center of a city or region, and it's nearly always spelled without an "e", and as a separate word.
However, to make it all simple, just remember MTT, BKK.
Homes and Offices in MTT
For selling, buying, or renting a condo, house or office, please contact:
Foreigners overseas can call Mark Prado (American) on his mobile at [phone number discontinued] or send a message by this website's contact form, email address, or office phone numbers.